MAX WEINBERG'S JUKEBOX SETS SEATTLE ON "FIRE."
The Triple Door, Seattle, WA
August 20, 2019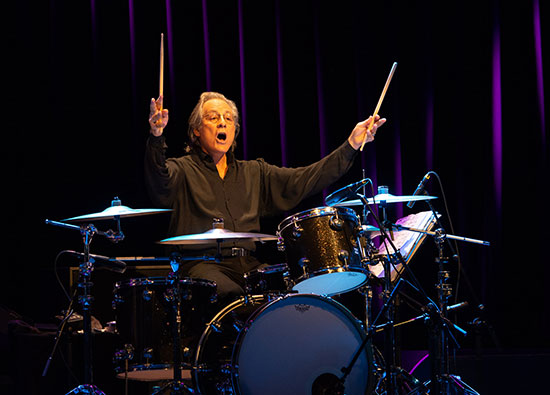 It was a sleepy Tuesday night in Seattle in August, but "fire" broke out twice at the Triple Door club. That's because Max Weinberg's Jukebox came to town, and played not just one, but two songs titled "Fire." The Seattle date was part of the extensive Max Weinberg Jukebox tour (details at maxweinberg.com).
The first of the "Fire" songs was a cover of the Jimi Hendrix classic (for "a hometown guy," Max said). A little later they went into "Fire" by… well, you know the other "hometown" guy, the one Max plays with in his day job. This is an all-request tour, and Max and his band perform in front of a menu listing 300 rock classics by the Beatles, Stones, Kinks, and others. Some requests are shouted out, and for others Weinberg goes out into the audience between songs — though he joked that he could only remember three requests at a time, "because, you know, I am 68."
Max is indeed 68, but his steady muscular playing style might convince you otherwise. On Hendrix's "Fire," for example, he was so spot-on you could close your eyes and think that the young Mitch Mitchell, from Jimi's band in 1966, had come onstage. That song displayed a flashier style than Max often uses in the E Street Band. After playing a Cream song, he recalled the "no junior Ginger Bakers" classified ad that led to his E Street Band audition, but little did everyone know that Max had plenty of Ginger Baker in him, too, if he wanted it.
Weinberg's style, though, has always emphasized the song and melody over drumming flashiness, which served him well in Seattle playing British and American '60s classics. Almost all the selections were from an era of music that Max said shaped him (and, of course, an era that shaped Bruce, and shaped many in the crowd at this show). The musicianship was impressive, as Max and his crack band had the ability to tackle a classic with only a moment's notice. That meant playing "Whiter Shade of Pale" five seconds after someone yelled the title, or pulling off an impromptu "I Wanna Be Sedated."
But it was the stories Max told before and after songs that truly made the night special. In a way he was giving context for where the music fit into his life (and sometimes where it fit into the Bruce canon), but mostly describing why these songs matter in the first place.
After playing "Glad All Over" by the Dave Clark Five, Max talked about seeing that band in Newark as a kid, recalling that at one time they had as many hits as the Beatles at on the pop charts. Clark's name appeared on his drum set — "which made him the boss," Max joked. So when Max led his own band on the Conan O'Brien television show for many years, his own name was on the kit. "If there was ever any debate about a decision," Max laughed, "I'd just point to the name on the drum."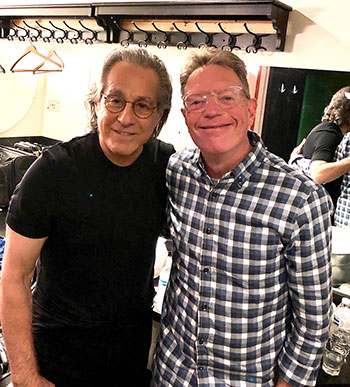 Backstage after the show, Max talked about his health (great these days), the E Street Band, Bruce, what it was like to play in Seattle again ("the center of it all," he laughed, "where Backstreets began!"), but also how challenging it was to appear on a nightly television show for so many years. "This was a demanding show business job, but it's what I've been doing my whole life."
[Right: Max Weinberg and Charles R. Cross backstage in Seattle]
Max had told the audience earlier how he'd been in the E Street Band for 45 years, but backstage there was much more emotion to what that tenure meant. He talked poignantly about what the men missing from the E Street stage meant to him.
"I miss Clarence and Danny every single day," he said. "I don't ever play and not think about them. They were such a part of our band — and they remain such a part of our band — and they remain such a part of my life."
Max also proudly talked about his son Jay Weinberg, of Slipknot. The week Max was in Seattle, Slipknot had just debuted an album at the top of the Billboard rock charts. "Almost no rock bands do that anymore," Max noted. "It's darn hard to sell rock records these days."
His son was a natural, Max said, without a helicopter dad forcing him into music. "I really didn't push Jay. Because of his age (Jay is 28), he didn't see the E Street Band until he was nine, and he didn't pick up drums until a bit later. I was not one of those dads making him practice. But he's incredible, and it's so great to see him at the top of drum magazine polls."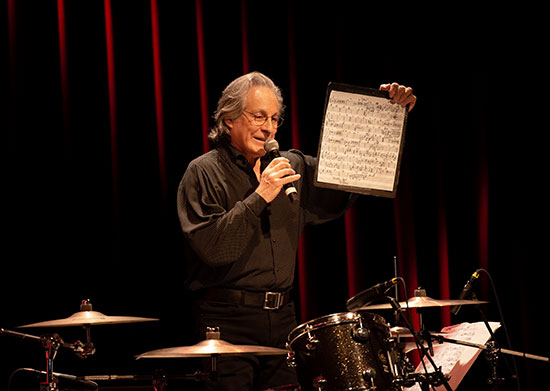 Earlier, during the show, Max had discussed a few of the Bruce songs his band played, but backstage he filled in more of the color of what it felt like simply to be in the studio and to be part of the creation of so many classic songs. "It seemed as if Bruce could go over in the corner of the studio and come back with something incredible an hour later," Max said. On "Dancing in the Dark," the biggest Bruce song in the "Jukebox" show, Weinberg talked about what it felt like to watch Bruce on deadline, trying to come up with a hit at the last minute, and achieving it.
The same was sort of true of "Fire," Bruce's version, which had been one of the highlights of the "Jukebox" show onstage. "Bruce wrote that for Elvis," Max said. "I'm absolutely sure that if Elvis had recorded it, it would have been one of Elvis' biggest hits. It was a perfect Elvis song."
It was, and it became, a perfect E Street Band song (and a near-perfect Pointer Sisters and Robert Gordon song, as well). That word also applies to Max Weinberg's Jukebox, which is a perfect way of attending a "master class." It was a night where you watch and listen to a legend of drums play some of the greatest songs in history, while dishing out backstory on how the work was created.
– September 3, 2019 – Charles R. Cross reporting – live photographs by Rene van Diemen (7/18/19)